Sometimes it's hard to just sit back and realize things happen for a reason until a good chunk of time passes. At that point you see how that event helped and/or put things in perspective.
Graduation has been delayed for me until May due to church credits at school. It all boiled down to technical problems with the school email, and therapy that had the office calling saying I'm off the list after I bought incitations and the whole getup. I got most of my money back, but for the invites I'll just cross out the old date and write down the new. Tacky, but for those who know me well will undestand.
It was horrible and someone I knew from the studio started spreading rumors why I didn't walk with the whole group, but I don't have to enroll in any more classes, I have free space to use in the studio, and I can concentrate on my business bachelors/master's program. The director wanted me to do other stuff, and this won't interfere with the master's application. It's frustrating, but there's a reason for all this. It can be an obnoxious thing to say but it's true. Recent events are falling into place and I know things are going to be okay. I'm close to many things, I've sold things and have a good deal with a guy who wants the bigger paintings.
I feel we all don't tell ourselves that, it's going to be okay. When things start to follow into place you just know it's going to be okay. It's weird feeling that. It's hard to explain, but you just know things are going to happen or be alright. Sometimes you'll try to tell yourself you're deluding yourself and want things to go your way. Meditating on these things and clearin your body of desires helps. Once you're able to clear things away you can see if it's really falling in place, of just a coud in the eyes. I hope this makes sense as things like this are difficult to explain.
Behind on some painting too. The day before new years I was biking with my dog and she tends to get retard happy when we bike. She's a siberian hsky so they go super fast and if it's not a sled you're bound for trouble. She lopped around a light pole and I got yanked by my right hand and I couldn't move it. It's just a ligament thing with no bone troubles, but for a few days it hurt like a motherfucker. I can finally paint, but it's not 100% to go back to work. A delay really, but thank goodness it's not bone troubles....
This is what it looked like after 24 hours.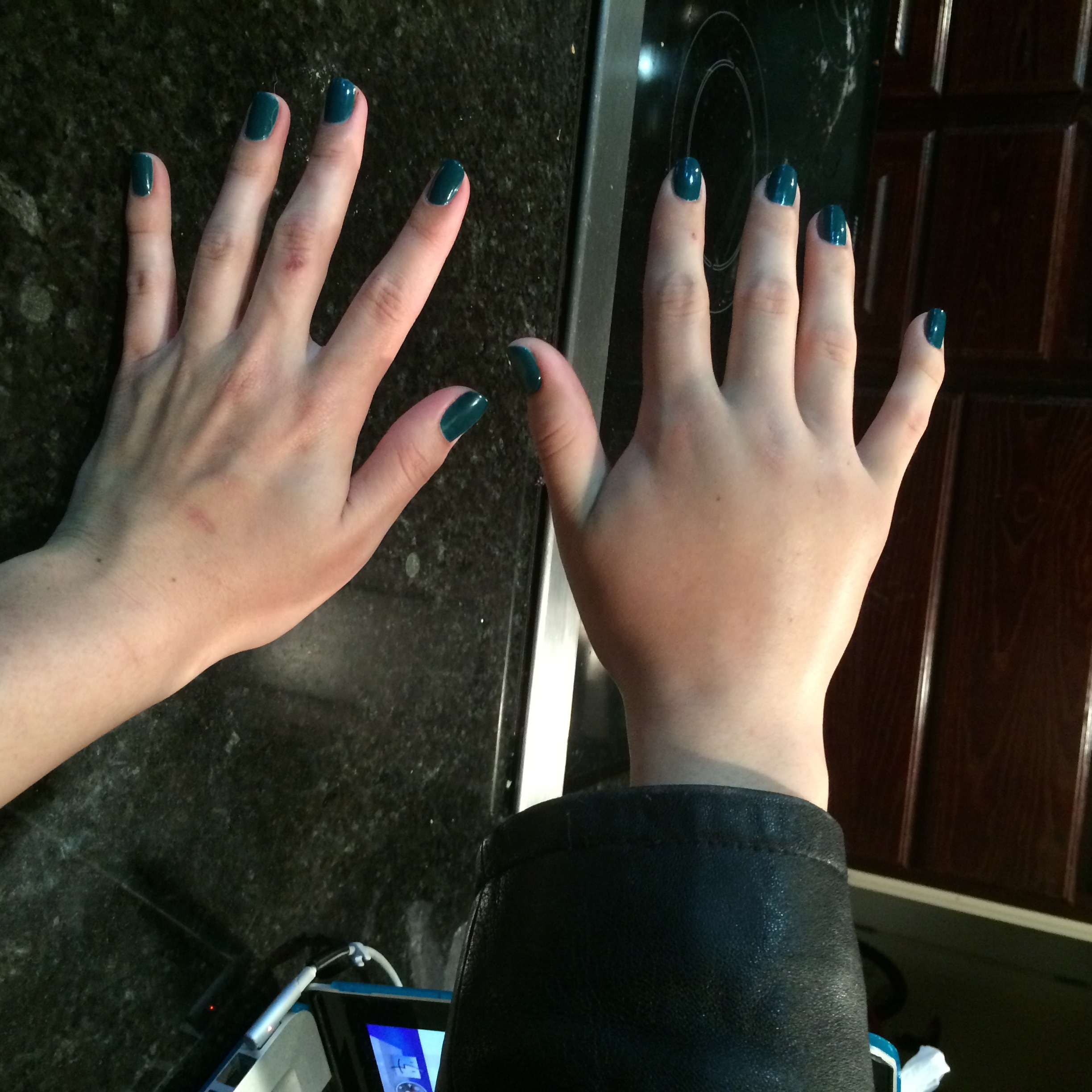 Can't see the gnarly bruising on the palm, and now the brusing on the top has gone into the yellow phase so it should be okay in a week....I'm able to type better but if it looks like shit you know why. blame the gimpy hand.
There's another special going on in the Rubberneck store. 30% off all things until the end of the month! No code or anything it'll be automatically be applied to the order!
Some other stuff to check out.
---
Good bud of mine's working on a game and voting on greenlight would be cool y'know.
This girlie makes really cool dolls, you should so check her out!
This is a good colleague of mine and her jewelry is nice and up for sale!
---
New things will be on the way since I can move my hand more. Hope everyone's New Year was nice, this year will be an interesting year with a lot of changes. It's best to let them happend and not to be too prepared. Life's really weird and has a tendency to flip on you for better or worse.
Goodnight everyone, and thank you everyone fans n friends alike for the support during all this time. :)