So I foolishly didn't write down why I titled my post "butt chicken" 2 months ago so I'm going to rectify that today along with some huge announcements. Butt chicken was a dumb dream I had awhile back I posted on a discord server I'm on so i'll just post the screenshot below explaining this dumb dream.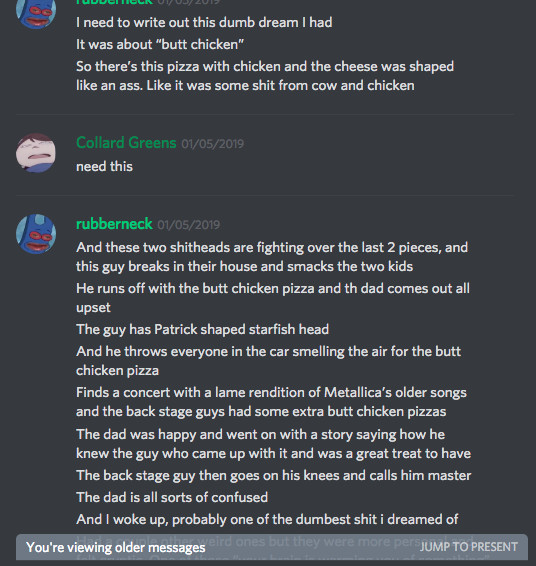 I don't have those dumb dreams often and they're usually either really stupid, or some horrible nasty shit. I kept thinking I had this dream last year but damn it really was only in January.
Anyway the last two months (or really December have been a whirlwind if I ought to be honest) have had a lot of things happen in such a short span of time. Pretty sure I got axed out of something due to personal reasons, but that's ok. I had someone write a song for me for my webcomic The Cherub Brothers which will be a coming project in the next few months, and have been making strides in selling off a good chuck of old work. Still at my current job, and lots of insanity going on with the local ISD's here and wanting to really stay away from all that nonsense. I do apologize for missing cherub updates I've been working on special pages for later chapters, and sometimes I have this wave of depressive funk where I'm just stuck and can't really do anything. They've gotten much better to manage but it's something that comes and goes but Cherubs is still going strong.
I also have found someone very special in a different way it's hard to explain. We reach a point where even though the amount of time is kind of short with what's been going on it makes it more surreal. We finish our thoughts which I never really had 100% with anyone, similar experiences, alike and different and I've found myself with someone I think I might have been looking for. I tend to mull over things and think this kind of relationship carefully. More so due to personal experiences and fibs. You know that whole spiel where someone wants that commitment but changes once they obtained sex. Things happen but honesty I think is something people don't want to use for fear of admitting things or afraid they don't get what they want. I only speak for what I've observed I know others are different. I remember we talked about that 20 year old expiration date and some other things which made this whole thing a bit more surreal since I really could be 100% myself and not have the other project their own troubles or other nonsense.
Before I get sappy about my partner I'll cut to the meat of this. My partner is moving here to Houston next month. I'm meeting their family and we will be driving back to my place. Since I've lived in the family house we will be getting our own place sometimes perhaps this year or depending on our work situation. In the meantime I'm trying to clean house and sell as much art as possible. If anyone is local of course there will be discounts! I'm in the process of finding a better paying non contracted job and any money will be used for our new place and the furniture and dishes we will be needing!
Inks that are 9x12 are always 25 bucks, zine prices are listed on my twitter and instagram, watercolors and paintings are a different story so be sure to DM me. DO NOT buy through my storenvy! They're raising the market percentage to 15% and recently sold all my deer/coyote jaw necklaces so be sure to message me what you would like to make sure I have it! And again the support is amazing thank you so much you all for everything.
Other than that, it's been alright vending at goth clubs and other places. Putting things together and getting shit all together for next month! Anyway thanks everyone for reading and commenting over the last few years. It's meant a lot!
With love <3